READY-MIXED CONCRETE BATCHING PLANT
HZS series modular concrete mixing plants are new types of concrete mixing plants designed by XD adopting the worldwide advanced technologies and research achievements during the 90's with many years of experiences in production of concrete mixing plants.
They are the most ideal plants in China as they are compact in design, mobile in site-transfer and easy in installation.
They are suitable for various large construction sites such as roads, bridges, dams, airports, seaports and sites in great demand of concrete such as ready-mixed concrete production centers.
Fixed Concrete Mixing Plant Technical parameters

Model

HZS60

HZS90

HZS120

HZS180

HZS240

Productivity(m³/h)

60

90

120

180

240

Mixer

Model

JS1000

JS1500

JS2000

JS3000

JS4000

Power(kw)

2x22

2x30

2x37

2x55

2x75

Capacity(m³)

1

1.5

2

3

4

Aggregate size(mm)

≤60

≤80

≤120

≤150

≤150

Batcher

Hopper capacity(m³)

3x13

3x13

3x15

4x20

4x25

Hopper quantity

3

3

4

4

4

Conveyor capacity(t/h)

200

200

300

400

600

Weighing scope and accuracy

Aggregate(kg)

2500±2%

3500±2%

4500±2%

6500±2%

9000±2%

Cement(kg)

600±1%

900±1%

1200±1%

1800±1%

2400±1%

Fly ash(kg)

200±1%

300±1%

400±1%

600±1%

800±1%

Water(kg)

300±1%

400±1%

600±1%

800±1%

1000±1%

Admixture(kg)

10±1%

30±1%

30±1%

50±1%

50±1%

Total power(kw)

98

123

145

198

240

Discharging height(m)

3.8

3.8

3.8

3.8

3.8

Note:

1.The total power does not include the power of screw conveyor;
2. The quantity of hopper can be designed as required;
3. All above specifications are subject to alteration without notice.
By using twin-shaft compulsory mixer, it mixes evenly and rapidly, achieving good mixing effect for all kinds of dry concrete, semi-dry concrete and plastic concrete. Multi-angle stirring arm avoids the phenomenon of concrete holding shaft. When the mixer main engine works the mixing shaft counter rotates. The materials remain in boiling motion under the action of the mixing blade. Meanwhile, under the shearing action of the stirring arm, the material is fully mixed in a relatively short period of time.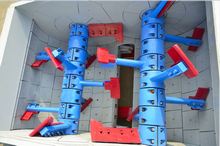 Mixing Blade----Both stirring arm and mixing blade are connected by bolts; it is convenient and quick for maintenance and replacement. The mixing blade can be easily adjusted in the stress and wear direction until it must be replaced. The blade is made of high-strength and impact resistance high-chromium wear-resistant alloy iron, with a normal life of more than 40,000 loads (cans).
The performance index of the mixing blade meets the standard of JG/T5045.1-93, among which HRC>=58,impact value>=5.0N.m/mm2, bending strength 600N/mm2.
The arc plate is made of high-chromium wear-resisting alloy iron. Its performance index meets the standard of JG/T5045.2-93, among which HRC>=54,impact value>=7.0N.m/mm2, bending strength >=600 N/mm2 with a life of more than 40,000 loads (cans) under normal use.
Reducing System
----The reducing system adopts the flywheel end synchronization and closed planetary deceleration mode. With a compact structure and high transmission efficiency, it is easy to maintain and has a long service life; it can satisfy different slump concrete mixing.
Shaft-end Sealing Device
----The shaft end supporting structure and sealing structure separate, so as to prevent damaging bearings in case the sealing device breaks down. The customer can optionally choose the advanced pneumatic sealing system.
Lubricating System---- The lubricating system adopts the most advanced automatic-charging lubrication oil system. Different points where oil is needed are supplied with lubrication oil properly along the oil pipelines. The lubrication oil enters effectively into all lubricating points and seal cavity, playing a part in both lubricating and sealing. Discontinuous type of computer-controlled oiling ensures the minimum fuel consumption while the shaft end sealing runs reliably.
The control system uses domestic advanced double machine synchronized control and is equipped with specialized UPS power supply, high performance long-life Siemens PLC, high speed and high precision weighing unit module, the international famous low-voltage electrical component, and is combined with our professional control and monitoring software. In the concrete mixing equipment industry our company creatively adopts the high performance PLC+IPC (Industrial Personal Computer) control system which achieves the most reliable operation, the lowest failure rate, the easiest failure processing, and the lowest requirement for the capacity of the maintenance personnel. All these concur towards our company's quality request – the best service is no maintenance.
The system carries out full automatic production process of material measurement, transfer, mixing and discharge in the mixing plant. It has real-time data processing function and intelligent alarm function. The system can be automatic, semi-automatic control, or manual operation. It is easy and convenient for operation. We can provide special design for the special requirements of our customers. The computer control interface analog displays the whole dynamic process of the mixing plant, which is clear and plainly visualized.
It can store all types of matching and working data of the mixing plant and print various kinds of report data and forms; In short, it can satisfy the need of industries such as commercial concrete, high-speed rail, pavement concrete, etc.
The container-type control room uses sound insulation and heat insulation sandwich boards, being spacious and bright, with a beautiful appearance. It not only ensures the proper working environment temperature of the electrical components, but also improves the operator's comfort.
Optional selection of remote diagnosis service system or local area network management system.